We're serious about rock hounding.  Our field trips range from nearby sites for poppy jasper, chiastolites, and other materials, to distant locations for shark's teeth or gemstones.
Upcoming trips are listed below.  Scroll down for pictures from prior trips.
SATURDAY, JULY 16, 2022 – EAGLE MEADOW ON SONORA PASS FOR PETRIFIED WOOD
The Calaveras Gem & Mineral Club has invited us to join them on a field trip to Eagle Meadows on the Sonora Pass to hunt for petrified wood and to go see the giant Bennett Juniper. The forest service roads have some ruts so a high clearance vehicle is best (we have to drive through a creek), but 4wd is not necessary.
The meeting place is at the Eagle Meadows turnoff at Hwy 108 at 10 am . The turn off is near the top of the pass so allow about 2.5 hours from Mariposa to get to the meeting place. We can also see about carpooling from this point if you don't think your vehicle will handle the roads.
The petrified wood is surface collecting and walking around the hills and ravines so wear sturdy boots/shoes.
You will want to bring:
Hat, gloves, sunscreen, water
Collection bucket for your treasures
Lunch/snacks
Plenty of water

 
SATURDAY, JUNE 25, 2022 – PATTERSON PASS FOR FOSSIL OYSTERS
We'll meet at the Mariposa County Fairgrounds at 8 AM for carpooling.  Or, you can meet us at the Mobil station at 25775 South Patterson Pass Road. Try to park on the right side of the building.
We will then proceed to the Top Of The World scenic outlook on Patterson Pass road. The fossils are a hundred yards, or so, down hill from there.
The soil is soft. No hard rock tools are needed. A pointed rock hammer, or small digging tool, would work just fine.
You should have all you could want, or carry, in less than an hour. We will then move to Del Puerto Canyon, 30 minutes south on I5, for some fossil leaf impressions and maybe some jasper. If things work out, we might be able to eat lunch at the source of Noah's Water. Bring bottles for free magnesium water.
For those with GPS, the oyster fossils are at 36.686744, -121.629132.
You will want to bring:
Hat, gloves, sunscreen, water
Collection bucket for your treasures
Lunch/snacks
Plenty of water

 
RSVP TO [email protected] OR OUR STORE AT 209-966-4367!!!!!
SATURDAY, MAY 28, 2022 – EXETER FOR ZOISITE/THULITE
Meet in Oakhurst at 9:00 am.  The meeting location is directly in front of Vons Supermarket, in the lot closest to Highway 49 (next to the old Payless Store).  IF YOU PLAN TO GO, PLEASE RSVP TO THE CLUB'S EMAIL, [email protected]  It's approximately 1 hour 45 minutes to the collecting area. Carpooling is encouraged; if you want to drive others or ride, please email us.  If you are between Oakhurst and Fresno, please email us for an alternative meeting place.
There is no hiking or off-road driving!  The collection area is along a road; when rocks are cleared from the orchard, they are added to the pile.
You will want to bring:
Hat, gloves, sunscreen, water
Collection bucket for your treasures
Spray bottle to help identify them
A pry bar could be handy
If you plan to climb up into the pile, please wear good boots.  Rocks could shift and the surface will be uneven
There are places for lunch in Exeter or bring your own
The material you will be collecting is a combination of zoisite and thulite. This combination of calcite rich rock will accept a polish.  Here are some pictures from prior trips.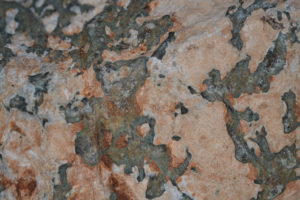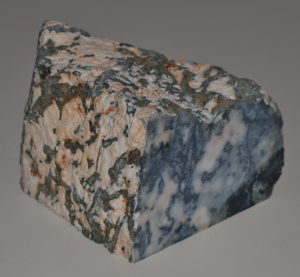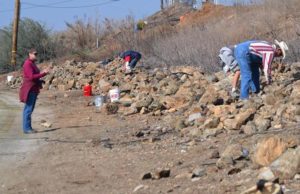 SUNDAY, MAY 1, 2022 – SOAPSTONE RIDGE
Trip Report:  It was a beautiful day in the foothills, perfect weather for rockhounds.  Here are some pictures of the views and rockhounds doing what rockhounds do – walking around with their eyes aimed directly at the ground near them, looking for the perfect treasures, on their knees digging in the dirt, or sharing their finds with fellow rockhounds.  Much soapstone found a new home!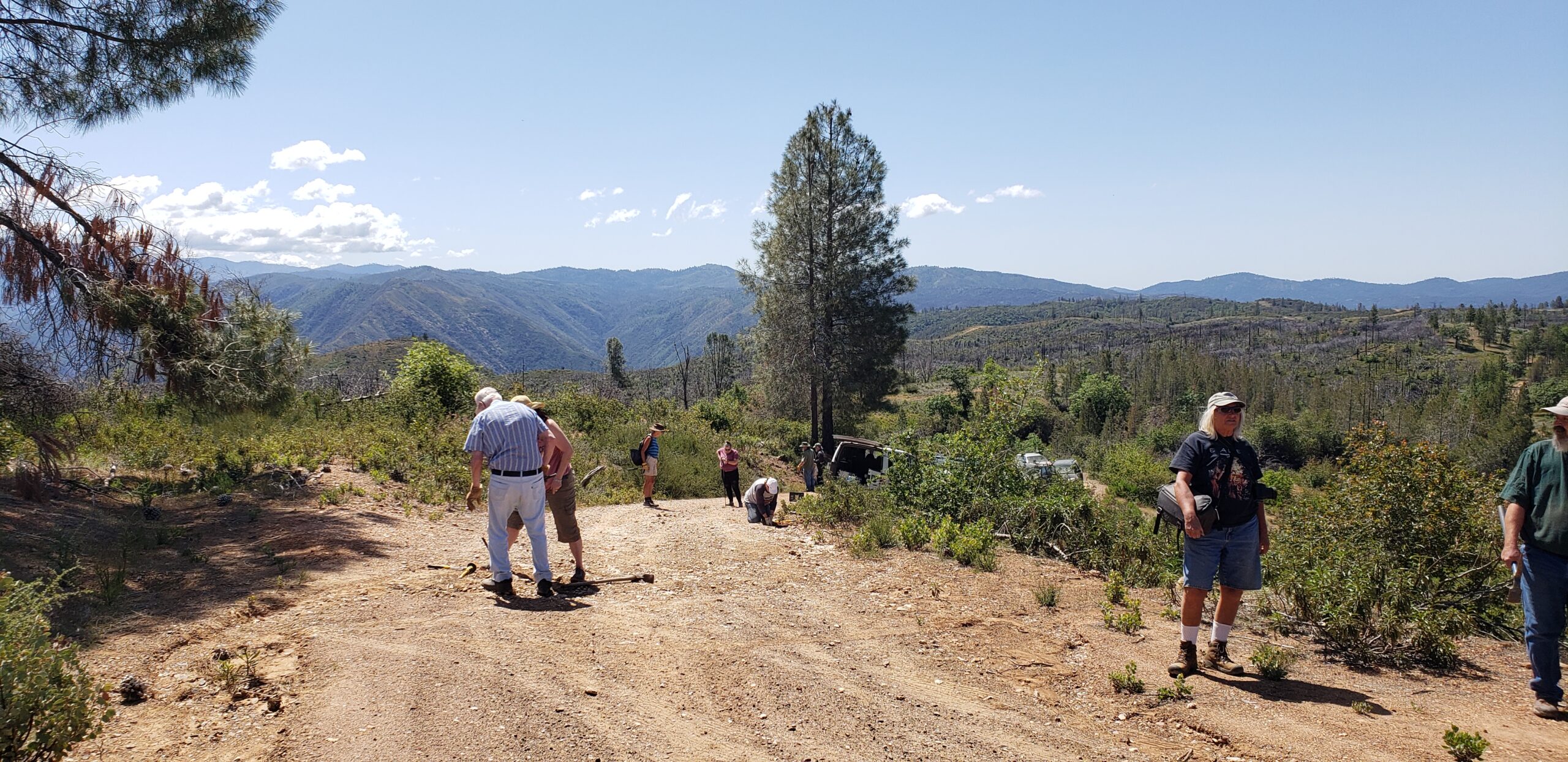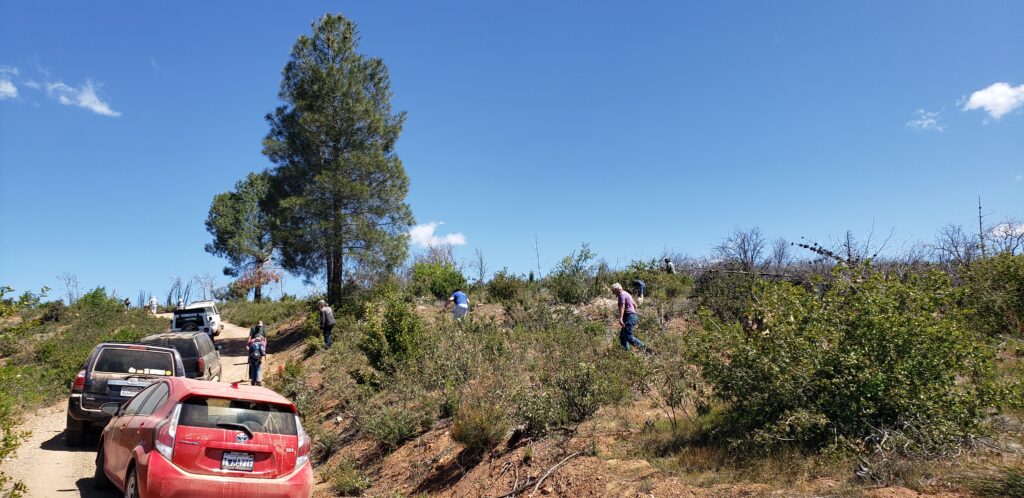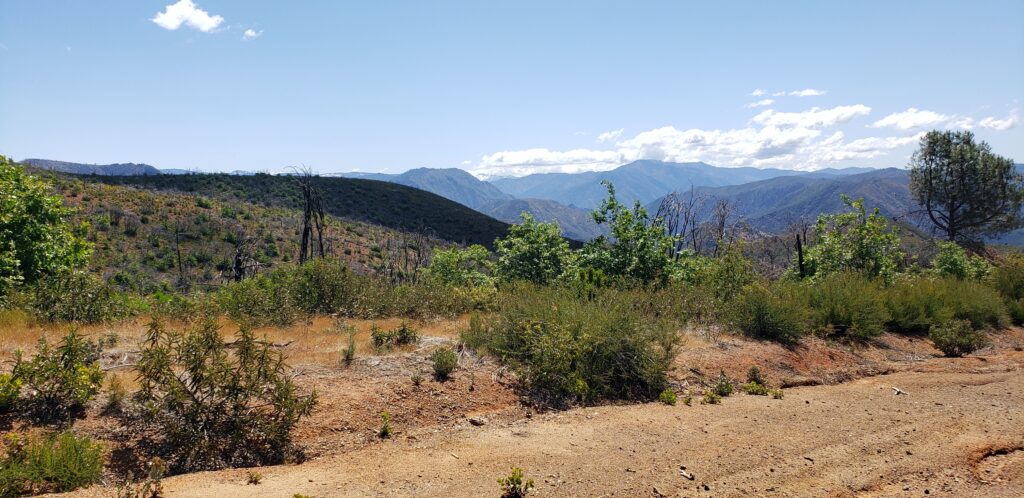 Meet at Coulterville Community Park in Coulterville at 10 am.  Gas up before you get to Coulterville!  Also, the Park provides the last restroom facilities….  Dog-friendly dogs are welcome.
4WD is not necessary, but high-clearance vehicle would be best for the dirt roads we'll be on.
The soapstone from this location comes in shades of green, white, gray, maybe some red.  Rockhounds will typically carve it, as it is relatively soft.
Bring:
Digging tools to break up large boulders (chisel, pryer, rock hammer).  You can also surface collect
Buckets, bags or crates for your treasures
Lunch, water (lots of water), sunscreen, hat, chair.  There is not much shade at this location
The site is 1.25 to 1.5 hours from Coulterville, so we will arrive there about 11:30
PLEASE RSVP at the Store, (209) 966-4367.
************************************************************
Ready for a day gem hunting at Ocean View Mine in San Diego County