We hold classes for training in lapidary skills and to teach techniques for beading and silversmithing.
BY APPOINTMENT - FACETING WITH GARY GOOCH 
By appointment only.  Contact Gary through the Club's email, [email protected]  Include your name, phone number, and your general days/times available.
MONDAY, June 27, DICHROIC GLASS WITH JUDI GOOCH
10 am to 3 pm at the Quarry.  The class cost is about $20 plus the cost of glass you select for your projects.  No prior experience is necessary, Judi will teach you everything you need to know, and she has all of the tools and glass needed.  The class is longer than usual as it allows time for your projects to be fired and cool, so you  take them home with you.
SATURDAY, May 21, SILVER CLAY WITH JUDI GOOCH
10 am at the Quarry.  There will be a small charge for the class ($10 or $15) plus a charge for any materials you purchase from Judi.  She will have silver clay available for sale, as well as all tools you will need.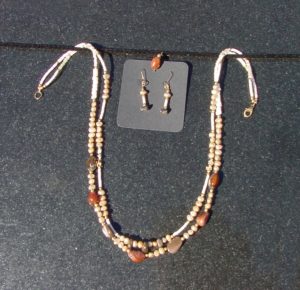 Contact us via The Store at (209) 966-4367, or come to our next meeting to sign up.